You will have a sense of the great minds that have passed through over the ages - among them Berkeley, Swift, and Beckett in the Humanities; Hamilton, Fitzgerald, and Walton in the Sciences. Their spirit of learning, of breadth, and of reaching beyond the conventional, is still our driving spirit across all of our disciplines.
John Hegarty, Trinity College Provost
Trinity College

The University of Dublin, Trinity College was founded in 1592 and it's course of studies include Arts (Humanities); Arts (Letters); Business, Economic and Social Studies; Engineering and Systems Sciences; Health Sciences; and Science. The city centre campus occupies some 47 acres (including the Trinity College Enterprise Centre).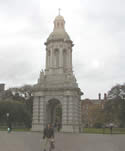 The Library dates back to the establishment of the College in 1591 and is the largest research library in Ireland. Today it has almost 4 million volumes with extensive collections of manuscripts, maps and music reflecting 400 years of academic development. The most famous of its manuscripts, the Book of Kells and the Book of Durrow. These illuminated manuscripts are located in the Old Library which contains the Long Room.
Trinity Links: