Art in Ireland:

The earliest Irish art is found in carvings on megalithic monuments dating from 2500 - 2000 BC.
In early historic times, Celtic art predominated, reaching its peak in illuminated manuscripts such as the Book of Durrow and the Book of Kells - both of which now reside in the Trinity College Library, Dublin. While the basic Celtic patterns remain, European influences such as Viking, Romanesque and Gothic styles are seen in work executed later than the 9th century. The large, distinctly Irish, stone crosses, seen across the country date from the 9th and 10th centuries.
Irish Literature: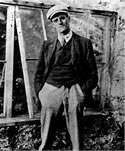 Written literature in Old Irish dates from the 6th century AD. Heroic sagas depicting the deeds of mythical warriors Cu Chulain and Fionn, along with lyrical and conventional poetry, survive from that time. The early modern period (1250-1650) produced bardic verse and prose but the literary language was then displaced by the vernacular form, which gave rise to an extensive, popular poetic literature.
Arguably, Ireland's most famous modern author is James Joyce. James Joyce is at once Dublin's most local and most international writer. In his novels the city gains a universal identity like Homer's Mediterranean or Biblical Jerusalem, transcendental, yet ruthlessly realistic. Today his name is forever linked with that of Dublin.
Irish Music Tradition:

Music has always been important in Irish cultural life. One of the earliest Irish composers whose work has survived is Turlough O'Carolan (1670-1738), known as 'The Blind Harpist', who was one of the last in the ancient Bardic tradition.
Ireland also has an international reputation for other musical styles, with artists like Van Morrisson, U2, Sinead O' Connor and The Cranberries. New acts are hitting the world stage, such as Therapy, Ash and The Corrs. Temple Bar in Dublin is the centre of the Irish modern and traditional music excitement in Dublin. The Contemporary Irish Music Centre has the latest on what's happening in Irish Music.