PC Track & Soccer Inks Chmielewski - Phoenix College's men's and women's track and field teams have signed Karol Chmielewski to a National Letter of Intent. | More |
Three Bears Earn All-American Honors at NJCAA T&F Championships - Roshawnda Brown (5th in the Hurdles), Magaly Burciaga (6th in the 1500m) and Cassie Redder (8th in the Steeple Chase) earned All-American honors at the NJCAA Track & Field National Championships. The PC women's 4x100m relay team of Roshawnda Brown, Barbara Goe, Laura Girek and Jessica Shank placed 8th in the nation. | More |
Redder Earns All-American Honor at NJCAA Nationals - Cassie Redder earned All-American honors after placing 8th in the Steeple Chase at the NJCAA National Track & Field Championships. Also making noise for the Bears is the women's 4x100-meter relay team which has reached the finals. | More |
Bears Women's 4x100 Relay Leads Way at Region Meet - PC's women's 4x100 meter relay team led a stellar performance for the Bears at the NJCAA Region 1 Championship meet. The 4x100 sqaud qualified for the NJCAA National Championships with a time of 49.8 seconds. | More |
PC Track & Field Stands Out at Mesa Invitational - Phoenix College's men's and women's track and field teams had a stellar day at the Miesa Invitational and have several student-athletes ranking high in the NJCAA and ready to perform on the National level. | More |
Phoenix College Signs San Carols High School Standout - Phoenix College signed San Carlos High School star Angel Nosie to a NJCAA National Letter of Intent on Wednesday, March 23rd, 2005. Angel signed her letter in front of her Tribal Council as well as her parents, grandmother, and many other family members. | More |
PC Men's & Women's Cross Country Among Five PC Sports Honored by NJCAA - Phoenix College had five sports -- Men's and Women's Cross Country, Men's and Women's Soccer and Volleyball - honored by the NJCAA as Academic All-American Teams. Men's Cross Country, Men's Soccer and Volleyball were also named the Academic Team of the Year with the highest grade point average of any team in the nation in their respective sport. | More |

2005 PC Track & Field Outlook | More |
Dean Joins Holden as NJCAA Qualifiers - Clarence Dean joined teammate Jourdin Holden as NJCAA Indoor National Track & Field qualifiers as Dean placed second in the 400-meter event at the Paradise Valley Indoor Invite. | More |
Holden Reaches NJCAA Qualifying Mark - Jourdin Holden currently ranks #2 nationally after leaping 6-9 in the high jump and qualifying for the National Championships. | More |
PC Women's Soccer, Track Sign Valerie Scott
Phoenix College Head Women's Soccer Coach Morgan Lee and Head Women's Track & Field Coach Willie Jones have announced that Ironwood High School's Valerie Scott will join the Bears as a multisport athlete in the Fall of 2005. (More)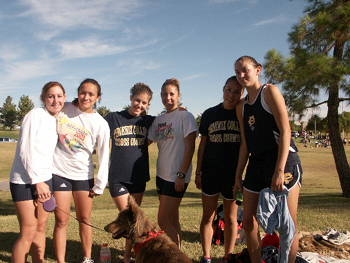 PC Releases 2005 Track & Field Schedules
Both the men's and women's track and field programs will begin the 2005 season on February 5th. | Men's Schedule | Women's Schedule |
Burciaga Earns All-American Honor
Phoenix College sophomore Magaly Burciaga completed her cross country career as a Bear with a 10th place finish at the NJCAA National Championships. The 10th place finish earned Burciaga Second Team All-American honors.
PC Women Place 4th in Regular Season Finale
The Bears' women's cross country squad (left) completed the 2004 regular season with a fourth place finish at the Canyon West Cross Country Invitational. (More)
Burciaga is Top JuCo Finisher at ASU Invite
Magaly Burciaga continued an impressive sophomore campaign as she was the top junior college finisher at the 2005 Arizona State Invitational. She placed 15th overall in a time of 19:52.9. Luis Cedillo led the PC men with a 41st place run. (More)
Burciaga Leads PC Women. Both Squds Take 7th at ACCAC Championships
All-American Magaly Burciaga placed second at the ACCAC Championships, just 2.5 seconds behind the race winner. Vielito Acuna finished 27th to lead the Bear's men's squad. (More)
PC Men & Women Place 4th in Opening Meet
The 2004 men's and women's cross country squads opened the 2004 season by running in the George Kyte Classic. Luis Cedillo paced the men while All-American Magaly Burciaga led the PC women. (More)
A Look at the 2004 PC Bears Men's & Women's Cross Country Seasons
The 2003 Men's and Women's Cross Country Teams will be led by All-Americans Vielito Acuna, And Magaly Burciaga, both returning from the 2003 teams. Along with Vielito Acuna, the Men's team will be considerably stronger with returning sophomores Anthony Caglio, Victor Rodriguez and Gerrardo Meza who helped Phoenix College to a second place finish in the Arizona junior college conference championships last fall. Coach Cruickshank has added Luis Cedillo (Glendale), Jose Lugo (South Mountain), Oswald Nkengurikiyimana (North) and Anthony Burrell (Apollo) to strengthen a potentially strong team.
The women's team returning sophomores are Jaki Schorer, Jennifer young, and Magaly Burciaga along with added freshman Cassie Redder (Mesa Westwood) Vanessa Dean (Cortez) and Christine Ruiz (North).
Both men and women's team are optimistic, as they have prepared all summer as a team.
NJCAA Region One Track & Field Championships
Phoenix College's Magaly Barciaga has qualified for the Nationals in both the 800-meter and 5,000-meter events. Jourdin Holden also qualified for Nationals, with a leap of 6-7 in the High Jump at the NJCAA Region I Track & Field Championships at Mesa. PC Highlights | NJCAA Region I Track Championship Site
PC Athletics: Four Programs Earn Academic All-American Honors
In the Fall of 2003, Phoenix College's Volleyball, Women's Soccer, Men's Cross Country and Women's Cross Country squads each placed in the top four of grade point acverages in the nation. More
Six Top-3 Places for Bears at Aztec T&F Meet
Jennifer Young placed third in the 1,500 meter event for PC's women's track squad, while the Bear men had five runners place in the top three of various events. (View Results)
Four PC Athletes Earn T&F All-American Honors
Kevin Billington, Anthony Owens, Terrick Ford, and Erica Passmore each earned All-American honors at the NJCAA Division II National Track & Field Championships. (More)
Three PC Sports Earn Top National Academic Honors
Men's soccer, women's soccer and volleyball have been tabbed the National Academic Team of the Year for the fall season, while the Lady Bears women's cross country team placed sixth nationally. (more...)