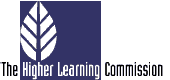 Welcome to PC's web site dedicated to our upcoming Higher Learning Commission/North Central Association accreditation visit and self-study report. This page will be continually changing as we begin our planning and documentation. Our goal is to use this site to exchange ideas, provide helpful resources, and keep current on committee progress. To add updates and documents to this site, please email them to Adriana Loera.
Go to the HLC's web site for more information.
HLC staff liaison, Karen Soloman visited Phoenix College, March 24, 2005.
Criterion Committees:
Criterion 1: Mission and Integrity. Denny Sheehan, Chair
Criterion 2: Preparing for the Future. Ann Roselle, Chair
Criterion 3: Student Learning and Effective Teaching. Mike Mitchell, Chair
Criterion 4: Acquisition, Discovery, and Application of Knowledge. Karen Christen, Chair
Criterion 5: Engagement and Service. Queta Chavez, Chair
Brent Jameson/Marian Gibney- NCA Co-Chairs
Nancy Matte - Lead Writer
Patricia Zaccardo - Editor
Steering Committee Documents:
Steering Team Minutes:
Criterion Chair Retreat Minutes:
HLC Powerpoint Presentation:
Powerpoint presentation describing the HLC's five core components and the self-study process at Phoenix College.