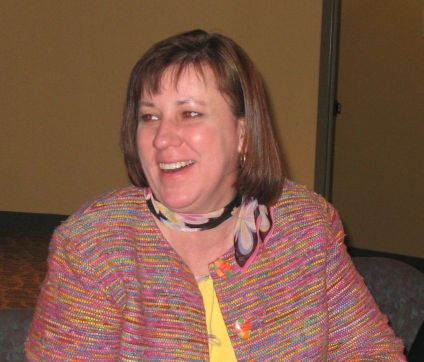 HLC staff liaison, Karen Soloman visits Phoenix College
At the invitation of the HLC/NCA Steering Committee, Dr. Karen Solomon, Assistant Director for Accreditation Services of the Higher Learning Commission of the North Central Association of Colleges and Schools, came to PC on a consultation visit March 24, 2005. Dr. Solomon spent the entire day meeting with various campus groups. She met with the President and Vice Presidents, then the self-study co-chairs, followed by the Steering Committee, the faculty senate, and the Assessment Committee.
Dr. Solomon examined our progress on the self-study and gave valuable advice on the new criteria. These new criteria form the basic structure of the self-study report, which will be submitted to the Commission in the fall of this year. The peer-review team will be on our campus April 10-12, 2006, and they will be conducting interviews and reading documents to verify the information in our self-study report.
Dr. Solomon liked the broad involvement of PC employees and the use and structure of our self-study committees and indicated that our processes and efforts to examine our effectiveness as an institution were valid and on track. We certainly hoped that these efforts were taking us in the right direction. Because so many people across the campus had already done so much work, it was good to receive this validation from Dr. Solomon.
In her efforts to help us focus our remaining efforts, Dr. Solomon encouraged us to concentrate on future plans of our campus and to determine if we can sustain our positive direction for students, employees, and the community. She said that the self-study should be a living document, one that should help guide our strategic planning for the future.
One phrase that she repeated several times in her discussions was "so what?" She said that the peer reviewers will look carefully at our report and the data that we collect and ask this question, in order to help us understand that we must evaluate all of this information in the context of how we will use it to better serve our students and meet the mission of the college.