Head Athletic Trainer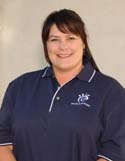 Lisa Ruiz
Send Email
Lisa Ruiz, MS, ATC/L, is Phoenix College's Head Athletic Trainer. This is her second year as a head athletic trainer for Phoenix College. She received her B.S. in Exercise Science from Arizona State University in 1999 and her M.S. in Sports Health Care from Arizona School of Health Sciences in 2003. She has been a part of the Phoenix College family and athletic training staff since 1999, initially starting as an athletic training student while attending ASU and continuing through as a graduate assistant while completing her master's degree at ASHS. Lisa currently resides in Phoenix, Arizona.
Assistant Athletic Trainer

Thad Walker
Send Email
Thad Walker, MS, ATC begins his first year with our Bears at Phoenix College for the 2004-2005 Season. He received his BA in Biology from Augustana College in Rock Island, IL. He received is MS in Sports Health Care at the Arizona School of Health Sciences in 2003. His previous employment has been with Marcos de Niza High School as trainer to their athletic program for all sports. He completed an internship with the Chicago Cubs and Quad Cities Steamwheelers. Thad is a member of National Athletic Trainers Association.