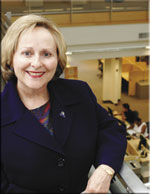 You are making a smart choice.
Pursuing your educational goals is the ideal way to be prepared when opportunity knocks. It is also a wonderful path toward creating your own opportunities. Whether you are completing the first two years of a bachelor's degree, preparing for a career, updating your skills, or pursuing your passions, Phoenix College can help you make the most of your future. Award-winning faculty, small class sizes, and a wealth of support services such as financial aid, scholarships, advisement, and counseling all combine to make Phoenix College the right place to begin realizing your goals and dreams.
Both inside and outside the classroom, Phoenix College students find that they are part of a vibrant campus experience that includes cultural, recreational, athletic, and academic opportunities for growth and leadership. Students from over 100 countries, representing every age and background, connect and interact to create an atmosphere of warmth, inclusiveness, and energy.
Prepare to achieve your dreams. Our outstanding faculty and staff are committed to upholding the highest academic standards as they help you discover new interests, explore a new career, or begin a new path. Your future begins here at Phoenix College. Start today, and find out just how far you can go, close to home.
Warm regards,
Anna Solley, Ed.D.
President
---
For new students, parents, and returning students
The Online Orientation is designed to guide you through registration and acquaint you with our academic and vocational programs, student services, and provide useful information to new students.
This online orientation is organized chronologically and should be read in order. In fact, you will have better results with your success here at Phoenix College.