---
Interested
in joining
the team??
Here's the form to print out

FAX TO:
Coach Pat Mooney
at 602-285-7333

- OR -

MAIL TO:
PC Athletics Department
% Coach Pat Mooney
1202 W. Thomas Road
Phoenix, AZ 85013

Preparation for 2005 Season Begins with Camp - The Bears prepared for the start of the 2005 season by hosting a week-long camp. | More |
AVCA Honors PC Volleyball for 6th Consecutive Year - The American Volleyball Coaches Association has handed Phoenix College Volleyball it sixth straight Academic Team of the Year Award. PC's streak of six consecutive awards ranks tops among all 2-year programs. | More |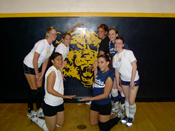 2005 PC Signees Preparing for Season - Head Coach Patrick Mooney is proud to introduce a new crop of student-athletes joining the Bears for 2005. | More |
PC Volleyball Garners Fourth NJCAA Academic Team of the Year Award - Phoenix College had five sports -- Men's and Women's Cross Country, Men's and Women's Soccer and Volleyball - honored by the NJCAA as Academic All-American Teams. Men's Cross Country, Men's Soccer and Volleyball were also named the Academic Team of the Year with the highest grade point average of any team in the nation in their respective sport. | More |
Mooney, Teslevich Earn PWSA Honors - Head Coach Patrick Mooney and sophomore Sarah Teslevich were honored by the Phoenix Women's Sports Association as the 2005 Women's Sport Community College Coach of the Years and the 2005 Female Community College Scholar Ahtlete of the Year. More

PC Teslevich Earns Second All-American Honor
Sarah Teslevich (left) becomes the first player in PC volleyball history to earn a pair of NJCAA All-American, NJCAA All-Region I and ACCAC All-Conference honors. More
Bears Season Ends in Consolation Bracket Final
Glendale handed the Bears a loss in their final outing of the season as the Gauchos topped Phoenix 3-0 in the final game in the loser's bracket of the NJCAA Region I Division II Tournament. More
NJCAA Region I Volleyball Tournament Schedule Set
Scottsdale Community College will play host to the 2004 NJCAA Region I Volleyball Championships beginning Thursday, November 4th. The PC Bears are seeded #2 and will face #3 seed Glendale at 5:00 p.m. in the opening round. More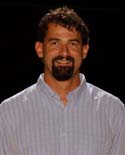 Mooney, Teslevich Earn ACCAC & NJCAA Region I Honors
PC Head Coach Pat Mooney (left) earned the 2004 ACCAC/NJCAA Region I Coach of the Year while Sarah Teslevich was named First Team All-NJCAA Region I and All-ACCAC. More
Bears Close Regular Season with 3-0 Victory
PC closed the regular season with a shutout victory over South Mountain as Sarah Lobstein paced the Bears with 11 kills and five aces, while Maigan Perkins added nine kills and nine digs. More
PC Defeats Glendale in Five, Prepares for Home Finale
The Bears won their third straight and 9th in the last 12 matches by a 3-2 score over Glendale. Phoenix College invites a huge crowd to cheer on the Bears in their final home match on Friday, October 29, as they host South Mountain at 7:00 p.m.. More
Bears Score Tight 3-2 Victory at Eastern Arizona
Phoenix College scored a come-from-behind 3-2 victory over Eastern Arizona as Sarah Teslevich posted 26 kills and 41 digs. The Bears fell in game one and then trailed 2-1 bfors coming back to win games three and four. More
PC Rebounds With Impressive Victory Over Mesa
The Bears put an end to a three match skid with an impressive 3-0 victory at home over Mesa. Setter Amber Page led the way with an amazing 51 assists in the three-game match. More
Bears Fall in Third Straight as Chandler-Gilbert Earns Victory
The PC volleyball program dropped its third straight match on Friday as Chandler-Gilbert scored a 3-0 victory over the visiting Bears. More
Bears Drop Hard Fought Match at Scottsdale
PC lost its third consecutive match after a hard fought match at Scottsdale. The Bears fell 30-12, 28-30, 30-32 and 30-21. More
Arizona Western Upends Phoenix College
The PC Bears travelled to Arizona Western and were handed a 3-0 setback. More
Pima Falls Quickly to Bears
Phoenix College made quick work of Pima in a 3-0 ACCAC victory as Sarah Lobstein and Sarah Teslevich posted 13 kills each. More
PC Victorious in Hard-Fought Match Over Yavapai
In a back-and-forth match, the Bears came out on the positive side with a 3-2 victory on the road at Yavapai. Sarah Teslevich again led the PC attack with 23 kills while adding 41 digs to pace the defense as well. More
Perkins Paces Bears Past South Mountain 3-0
Maigan Perkins' 15 kills led the Bears to a 3-0 ACCAC road victory over South Mountain. More
Bears Score Comeback Road Win Over Glendale
Phoenix College dropped game one 30-14 before storming back and winning the nect three games to capture victory in this ACCAC battle at Glendale. More

Teslevich Earns Second ACCAC Weekly Honor
PC's Sarah Teslevich earned her second ACCAC Player of the Week honor after leading the Bears to a pair of 3-0 ACCAC victories. More

Bears Score Pair of ACCAC Victories
Phoenix College scored a pair of ACCAC victories this past week, defeating Eastern Arizona and Mesa by identical 3-0 scores. Sarah Lobstein (right) led the Bears over Eastern with 20 kills while setter Amber Page added 41 assists. Against Mesa, Sarah Teslevich recorded 17 kills and 21 digs. Eastern Arizona Match | Mesa Match
Bears Post 6-2 Record at Valley of the Sun Tourney
The PC volleyball squad improved to 16-8 overall on the season with a great showing in the Valley of the Sun Tournament. Scores
Chandler-Gilbert Defeats PC in CLOSE Match
The Bears dropped an incredibly tight match to Chandler-Gilbert at PC dropped game five by a 16-14 score. Match Information
Bears Go 6-2 at Yavapai Tourney, Fall in 5-Game Match to St. Claire (MI)
After racking up six victories in eight matches at Yavapai's tournmey, the Phoenix volleyball squad lost a very tight five game match to St. Claire. Yavapai Tournament Scores | St. Claire Match Information
Scottsdale Wins Hard-Fought Match Over PC
Scottsdale swept the first three games by scores of 30-25, 30-27 and 30-22 to top the Bears in an ACCAC tilt. Match Information
Teslevich Named NJCAA National Athlete of the Week
Phoenix College's Sarah Teslevich was named the NJCAA National Division 2 Volleyball Player of the Week for the week ending September 5th. More
Teslevich Tabbed ACCAC Player of the Week
Sophomore Sarah Teslevich earned the first ACCAC Player of the Week award for the 2004 season after helping the Bears to three wins in the opening week. More
Bears Score 3-1 ACCAC Victory Over Yavapai
After dropping game one, Phoenix College stormed back to sweep the next three games and as Maigan Perkins recorded a team best 17 kills. Match Information
PC Moves to 3-1 on Season, Sweeps Pima in Three
PC earned its second straight road victory and improved to 3-1 on the season with a 3-0 victory over Pima. Sophomore Sarah Teslevich again led the Bears' offensive and defensive attack with 17 kills and 17 digs. Match Information
Bears Top Grand Canyon JV in Five Games
Sarah Teslevich posted 14 kills and 42 digs to pace Phoenix College to a 3-2 road win over Grand Canyon University JV. Match Information
PC Volleyball Opens 2004 Season with Weekend Split
The 2004 season opened for the Bears with a 3-0 victory over Southwestern College on Friday before falling 3-0 to Arizona Western in the ACCAC opener on Saturday. Southwestern Match | Arizona Western Match
2004 Bears Volleyball Season Serves Up August 28
The 2004 version of Phoenix College softball begins play on August 28th when the Bears host Southwestern College at 7:00 p.m. (Full Schedule)
PC Volleyball Earns Another NJCAA Academic Team of the Year Award
Head Coach Pat Mooney's volleyball program has earned its third NJCAA National Academic Team of the Year honor in the past four years. This honor goes to the team with the highest team grade point average in the nation.