2004-2005 Media Guide | View the Cover | View the Inside Pages |
Bears Season Ends in Region Opener — #2 seed Phoenix was upset 66-52 by #3 seed South Mountain in the opening round of the NJCAA Region I Division 2 Tournament. The Bears were led by a double-double from Ahisia Tillman with 16 points and 11 rebounds. | More |
Montoya, Tillman Garner Postseason Honors — Sarah Montoya has been nemed to teh All-ACCAC and All-Region I teams while teammate Ahisia Tillman took home an All-ACCAC award. | More |
PC Prepares for ACCAC/NJCAA Region I Tourney with Victory in Regular Season Finale — The Bears prepared for the ACCAC/NJCAA Region I Tournament with a 73-60 road victory over South Mountain. Sarah Montoya connected on 5-of-8 3-point field goals to lead four PC players in double figures with 18 points. Ahisia Tillman posted a double-double with 10 points and 10 boards. | More |
Arizona Western's Vasquez Too Much for Bears — Phoenix College battled tough and played a very strong second half but Arizona Western's Farah Vasquez posted 35 points and 15 rebounds to lead the 90-81 win over the Bears. | More |
PC Falls to ACCAC Leader Central Arizona — The Bears battled to an even draw in the second half but lost the first half battle and the war 90-58. Ahisia Tillman posted a double-double with 13 points and 10 rebounds. | More |
Bears Battle Before Falling to Mesa — Melissa Adams led Phoenix College with 17 points but it was not enough as the visiting Bears fell to Mesa 83-72. | More |
Bears Roll in Comeback Victory Over Chandler-Gilbert — Trailing 27-25 at halftime, the Bears came out smoking in the second half to roll to an 82-67 victory over Chandler-Gilbert. PC connected on 61 percent from the field in the second period as each Bear in uniform scored at home in North Gym. | More |
Phoenix Defeats Eastern Arizona in Strange Home Surroundings — With a leak in the roof of the Bears' North Gym, Phoenix College called Glendale Community College home for a one-time ACCAC performance. The Bears broke in their new "home" with a 61-54 victory as Sarah Montoya connected on 6-of-9 3-pointers on her way to a team-high 24 points. | More |
Bears Contest Against Eastern Arizona Moved to Glendale CC - Due to a leak in the roof, Phoenix College's men's and women's basketball games against Eastern Arizona have been moved to Glendale Community College. The women's game will tip-off at 1:00 p.m. while the men will play at 3:00 p.m. The men's game can be heard live on the Southwest Sports Network.
Yavapai Tops Bears in ACCAC Action — The Bears battled in the second half to a one-point game after suffering a 37-22 defecit at halftime. | More |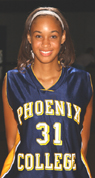 Tillman Leads Bears Past Glendale — Phoenx College swept the season's contests against Glendale, defeating the Gauchos 69-62 on Saturday. Ahisa Tillma (left) paced the Bears with 18 points, 16 rebounds and five blocked shots. Head Coach Liza Oaklet said, "Ahisia and
Sarah (Montoya) led us scoring wise, but I felt like the difference in the game was the leadership on the floor from Senda Olsen and Melissa Adams! I am very proud of the Bears tonight. The win was a true team effort! | More |
Cochise Defeats Bears 64-59 — Despite a career best 22 points from Katie Leischner, Phoenix fell 64-59 in an ACCAC battle at Cochise. | More |
Scottsdale Defeats PC in OT — The Bears battled Scottsdale for 40 minutes before the Artichokes stretched the lead in overtime for a 73-60 overtime ACCAC victory. | More |
Balanced Attack Leads Bears Past South Mountain — Katie Leischner led three PC players in double figures as the Bears defeated ACCAC foe South Mountain 68-56. | More |
Arizona Western Defeats Bears in ACCAC Action — Nichole Craig tallied 12 points to lead the Bears in a 67-54 ACCAC road loss to Arizona Western. | More |
PC Returns to Win Coloumn with Strong Defensive Performance — In what Head Coach Liza Oakley called her squad's top defensive outing of the season, the Bears scored a 63-40 ACCAC victory over Pima. | More |
Central Arizona Deafeat Bears — Central Arizona continued to prove they it is one of the NJCAA's best this season with a 100-52 ACCAC victory over Phoenix College. | More |
Mesa Uses Strong Second Half to Top Bears — Mesa's strong second half performance and 8-of-11 shooting from behind the 3-point arc was too much for the Bears as they fell 81-74 in this ACCAC contest. | More |
PC Defeats Chandler-Gilbert 65-54 — The Lady Bears improved to 5-1 in the ACCAC with an impressive 65-54 road victoiry over Chandler-Gilbert. Melissa Adames paced the LAdy Bears with 18 points. | More |
Bears Lose Nail Biter to D1's #4 Ranked South Plains — The close calls just keep coming! Unfortunately, Phoenix College came up on the short end against the NJCAA Division I #4 ranked South Plains CC squad out of Texas. The Bears dropped a 66-61 decision to make it 11 straight games either won or lost by five points or less. | More |
Close Calls Keep Ringing for PC Women's Hoops — For the 10th consecutive game, a PC women's basketball game ended by a margin of five points or less. The Lady Bears came out on top with a 59-54 victory over Parkland on January 4th. Just a night earlier, Lakeland defeated PC 78-76 while Olympic scored a 71-70 victory over PC just before the New Year. Over the past 10 games, Phoenix has won six games by an average of 3.8 points per game while dropping four contests by an average of just 2.8 points per outing. | More on Parkland Game | More on Lakeland Game | More on Olympic Game |
Phoenix Women Win Fourth Straight — The Lady Bears hoops squad continues to show the character of a championship squad as they won their fourth consecutive game by five points or less. Phoenix College took to the road and downed Eastern Arizona 64-60 as the Bears battled back from a 31-24 halftime deficit. PC has now won five games on the 2004-2005 season by an average winning margin of 3.6 points. | More |
Bears Defeat Glendale in Overtime Thriller — PC's women's hoops squad travelled to ACCAC rival Glendale and battled for a 78-76 overtime victory. The Bears, who won their third consecutive game, were led by Ahisia Tillman's 17 points, 22 rebounds and four blocked shots. | More |
Montoya Leads PC to Victory Over Cochise — Sarah Montoya scored a career-high 29 points as she led the Lady Bears to a 63-60 ACCAC victory over Cochise. | More |
Lady Bears Battle for Victory Over Visiting Scottsdale — With the game tied at the half, PC's Lady Bears used an aggressive defense and great composure in the closing minutes for a 68-63 ACCAC victory over Scottsdale. | More |
PC Battles Tough Against One of NJCAA Division I's Best — The Bears missed on a 3-point attempt at the buzzer that would have tied the game and dropped a 64-61 decision to Dixie State, ranked 20th nationally in the NJCAA Division I rankings. Sarah Montoya paced the Bears with 20 points while Ahisia Tillman commanded the middle on defense with eight blocked shots. | More |

Yavapai Scores 62-57 Victory Over Bears — The Bears dropped a hard fought contest to Yavapai as the Roughriders squeeked out a 62-57 ACCAC victory over the Bears in North Gym.. Sarah Montoya and Patricia Victor led Phoenix College with 18 and 12 points, respectively. | More |
Bears Tip-off Season with Split in Opening Weekend — Phoenix opened the 2004-2005 season with a 75-47 loss to the College of Southern Idaho, but responded with a 68-64 victory over Oakland CC. | More on Southern Idaho Game | More on Oakland Game |
ACCAC Sets Hoops Jamboree — Mesa Community College will host the 2004 ACCAC Women's Basketball Jamboree on Saturday, October 16th. The tip-off of the first contest is set for 9:00 a.m..
Lady Bears Moving on with Collegiate Careers - Five members of the 2003-2004 Lady Bears squad will continue their athletic careers with 4-year programs. (more)