meriadoc
society


The Meriadoc Society at Phoenix College was established in 1993 to commemorate former Classical Studies student Padriac Meriadoc Hill.

The society's purpose is to study and promote the arts and related subjects at Phoenix College and throughout the community, as stated in the Charter below.


Charter for the Meriadoc Society

Whereas the friends and family of Padriac Meriadoc Hill wish to establish a permanent society to celebrate his memory;

Whereas Padriac Meriadoc Hill was a graduate of the Classical Studies Program at Phoenix College;

Whereas the friends and family of Padriac Meriadoc Hill wish to include, rather than exclude, community members and others desirous of joining the group;The Meriadoc Society is hereby established, with the Classical Studies Program agreeing to promote its purposes and continuation inside and outside the College community, to provide office support, and to serve as a depository for the Padriac Hill Scholarship Fund.

The mission of the Society shall be to study and promote literature, art, philosophy and other subjects or combinations of subjects in an informal setting; to provide opportunities for fellowship among its members; to serve its community; and to support the Padriac Hill Scholarship Fund and advise in its administration.

Conditions:
The Society shall meet periodically at times and places established by the membership.
The Society shall elect officers as needed and at intervals it deems appropriate.
The Society may form committees charged with carrying out its missions.


One of Padriac's own poems:

Rose of Sharon
Padriac M. Hill

Like the bloom that graced a lonely plain
You have blessed my heart.
Like the bloom's sweet scent that tamed the air
You have calmed my troubled soul.
Like the flower of such simple beauty
Your majesty took a simpler form,
And like each petal soothes the weary eye
Your grace has brought eternal peace.

Rose of Sharon
You have cried with me
You have lit my darkest moments.
Rose of Sharon
You have walked with me,
You have never left my side.

Like a wind that sweeps the plain at night
Your word was always heard.
Like a hand that rips the bloom form the soil
You were taken to the trial.
Like an animal tearing the leaf apart
Our sin nailed you to a cross,
Yet just as spring refreshes the world
You would bloom again.

Rose of Sharon
You have cried with me,
You have lit my darkest moments.
Rose of Sharon
You have walked with me,
You have never left my side.

The world has never known
Such a flower with a love of gold,
Yet the rose, by any other name
Is still the saviour of my soul.


Poetry Contest

We hold an informal poetry contest and readings every fall and spring. Any student, staff or faculty member at Phoenix College, as well as anyone in the community, can participate! Everyone is welcome to read a favorite poem or compete for prizes by reading an original poem. Check out our "Events" pages under "Honors" for information on dates and times of the poetry contests.

Our 8th (and a half) Annual Poetry Contest was a success! Readers and winners were David Quintana, Catherine Bouvier, Amy Taylor, Samantha Robinson, Justin Tang, Mary Schlueter, Peggy Welch, and Robert E. Herb. To read some of the great poems read and written by some of these students, click on the titles below:


Digger and Chippy
Reflections of Lessons
Combustible Kittens
Folium Antiquum
Christmas Memories
No Where To Go
Untitled
Phoenix Poetry Society

The Phoenix Poetry Society meets every 4th Saturday of the month at Palo Verde Library, 4402 N. 51st Avenue, from 10:00 a.m. - 12:30 p.m. The library telephone number is (602) 262-6805.

For more information, please call Mike Millam at (602) 266-2792 or Lois Currie at (602) 589-0356.



Other Events

Friday Flicks
Every two weeks. Read on for details and dates...

The Meriadoc Society along with the Classical Studies Program and PC Latin students are hosting Friday Afternoon Flicks this semester every other Friday of the month. They'll be viewing movies and shows of classical content and themes (as in history, not "film classics"). Movies are at 3 p.m. in Student Life and Leadership, lower level Hannelly Center. Any and all are invited to attend. These events are free.

Next movie: I, Claudius (parts 7 and 8)

Remaining dates are April 22nd and May 6th.


Meriadoc Society Social

In keeping with the Society's mission to promote art and provide opportunities for fellowship, our students organized an outing to the Phoenix Art Museum.








At the Phoenix Art Museum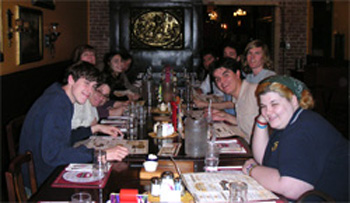 Dinner afterwards at the Old Spaghetti Factory