Please note that for this PREVIEW version of this course, the only buttons that are above that are working are the following: HOME, PART 1 and CONTACT US.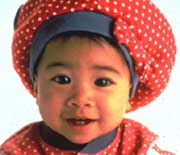 Welcome to the online continuing education course, "Early Childhood Caries: A Medical & Dental Perspective." This course is co-sponsored by the Arizona Department of Health Services, the Health Resources & Services Administration (HRSA), and Phoenix College's Department of Dental Programs.
This course is designed for medical and dental professionals to present the most current information regarding early childhood caries, as well as the management of a child with this infectious disease. This interactive program will include the presentation of information, followed by practice in the form of multiple-choice and true/false questions which will provide you with immediate feedback to allow you to assess your knowledge of the topics presented. Finally, there is a post-test which must be completed with a score of 80% or above in order to receive C.E.U's, C.E's, or C.M.E's.
The next page will provide you with a checklist to use to determine the units you have completed and those that still need to be completed as you navigate through this program. This course is lengthy - it is intended to take at least two hours to navigate through the entire program, including practice items and the post-test. We recommend that you try to complete one section each day in order to enhance retention of the information presented.
References used in the preparation of this course
Resources/Web Links