New Bears Preparing for 2005
Head Coach Pat Mooney is pleased to announce the new members of the Bears' Volleyball Family. The incoming class for the 2005 season include members from all over the valley. Coach Mooney states "we will have a great mix of experienced returning players to go with our strong incoming class of very athletic individuals. I think our strengths will be our versatility, unity, and athleticism. I am very excited to have these student athletes in our program and I can't wait to get started with practice in August."
The new volleyball team members include; Catherine Jarrett, Westwood High School, Kaepa Club Red--Whitney Sorensen, Cactus High School, Phoenix North Valley--Angie Bakemeier, Centennial High, Club Zia--Sulieti Kaipelea, Mountain View Mesa High, Phoenix North Valley--Jennifer Chamberlin, Ironwood High, Club Zia--Kassie Arner, Pinnacle High, Phoenix North Valley--Stephanie Slaton, Ironwood Ridge High (Tucson), Club Cactus--Emily Toone, Peoria High, Club Arrowhead.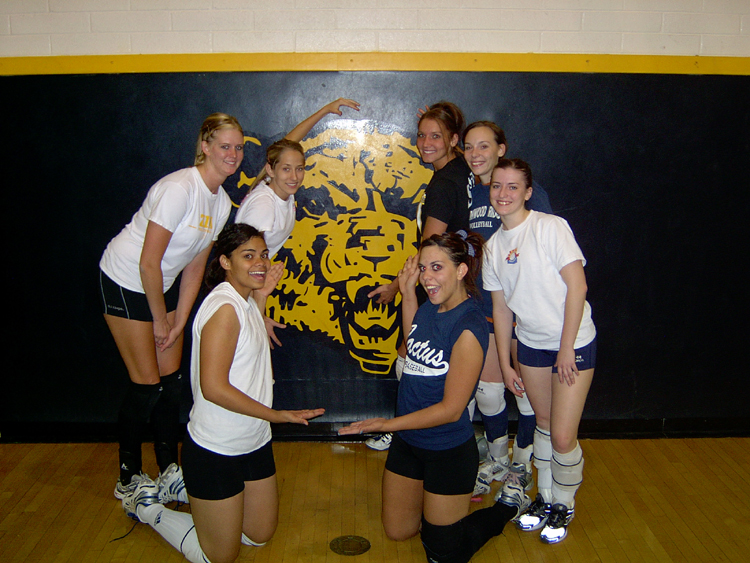 The Pictured clockwise from top left --Jenny Chamberlin, Catherine Jarrett, Kassie Arner,
Stephanie Slaton, Angie Bakemeier, Whitney Sorensen, Sulieti Kaipelea.