Mesa Named NJCAA Betty Jo Graber
Female Athlete of the Year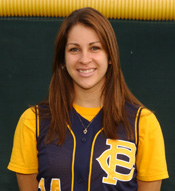 The 2005 NJCAA Betty Jo Graber Female Student Athlete of the Year is sophomore softball standout Chelsie Mesa of Phoenix College in Phoenix , Ariz. She is the second selection out of the Arizona Community College Athletic Conference (ACCAC). Track and Field standout Yuliana Perez was the 2002 Betty Jo Graber selection.
The 2005 Phoenix College Athlete- and ACCAC Player-of-the-Year, Mesa excels both in the classroom and on the field, She finished with a 3.57 grade point average and was twice named an NJCAA All-American. Mesa is a member of the back-to-back NJCAA Division II Softball National Championship team and was named the national tournament MVP both years. She finished the 2005 campaign hitting .513 (11th nationally) with 75 RBI (second nationally) and 13 home runs (fifth nationally).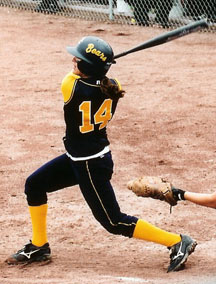 A native of Phoenix ( Ariz. ), Mesa is a two-time first-team National Fastpitch Coaches Association (NFCA) All-American, a two-time-ACCAC first-team All-Conference selection and a two-time Region 1 All-Region selection.
Phoenix College Head Coach Heniz Mueller had this to say about Mesa, "The best athlete that I have ever coached at any level. She is a five-tool player and exemplifies what women's softball is all about. Great eye-hand coordination, great arm and great speed. She knows the game and uses her talents to the max. On top of all that, she is a great student and wonderful person."
Mesa has received a full athletic scholarship to the University of Arizona.
Betty Jo Graber spent 35 years advancing opportunities for women in NJCAA athletics. Along with a successful basketball coaching career at Weatherford College, she was also the Region V Women's Director, the NJCAA Women's Basketball Committee Chair and a founding member of the NJCAA Women's Division. Graber is member of the inaugural class inducted into the Women's Basketball Hall of Fame in Tennessee. Graber was the perfect model of hard work, discipline, ethics and excellence in community college athletics. This award is given annually to the NJCAA Student-Athlete that best exhibits these traits.
PAST BETTY JO GRABER AWARD RECIPIENTS
| | | | |
| --- | --- | --- | --- |
| Year | Name | Sport(s) | College; City, State |
| 1992-1993 | Carey Burton | Volleyball | Barton County Community College ; Great Bend , Kan. |
| 1993-1994 | Nema Corey | Slow Pitch Softball | Meridian Community College ; Meridian , Miss. |
| 1994-1995 | Kay Mannebach | Cross Country & Track | Colby Community College ; Colby , Kan. |
| 1995-1996 | Tricia Ferrin | Basketball | Utah Valley State College; Orem , Utah |
| 1996-1997 | Nicole Weed | Fast Pitch Softball | Daytona Beach Community College ; Daytona Beach , Fla. |
| 1997-1998 | Kaunda Kay Williams | Basketball | Gulf Coast Community College ; Panama City , Fla. |
| 1998-1999 | Yalika "Boo" Barnes | Basketball | Trinity Valley Community College ; Athens , Texas |
| 1999-2000 | Devra Viekant | Cross Country & Track | Utah Valley State College; Orem , Utah |
| 2000-2001 | Stephanie Martin | Volleyball | College of Southern Idaho ; Twin Falls , Idaho |
| 2001-2002 | Yuliana Perez | Track and Field | Pima Community College ; Tucson , Ariz. |
| 2002-2003 | Natashia Morehead | Basketball | Gulf Coast Community College ; Panama City , Fla. |
| 2003-2004 | Heidi Brooks | Basketball & Softball | Corning Community College ; Corning , N.Y. |
| 2004-2005 | Chelsie Mesa | Softball | Phoenix College ; Phoenix , Ariz. |