Two PC Softball Players Sign Full Ride
Scholarship Packages to Four-Year Schools
(PHOENIX, Ariz., Dec. 2, 2004) - Phoenix College shortstop, Chelsie Mesa and pitcher, Rachael Schwartz recently signed full-ride athletic scholarships to well-known Division I schools. Mesa committed to the top-ranked University of Arizona Softball Program and Schwartz signed with the Southeastern Louisiana University program.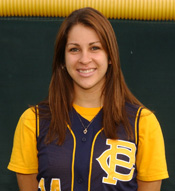 "While both still need to prove themselves in this upcoming season, this is truly an honor for Phoenix College and for these players," said Coach Mueller. "Mesa is our very first player to sign with the U of A and this is the first time we've sent a pitcher to Southeastern Louisiana. I'm just so proud of them."
As both Mesa (left) and Schwartz admit to feelings of excitement and nervousness, they instantly confess that they could not have reached this success on their own. Mesa's competitive nature with her brother helped her perfect her game.
"Growing up, I always wanted to be as good as or better than my brother," she said.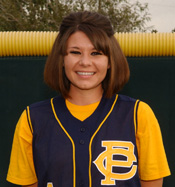 When thinking of role models, Schwartz (right) instantly thought of her mother who passed away when Schwartz was only 16.
"Even when she had undergone treatment, she would always be at my game," Schwartz said. "She was always there to support me."
Although growing up with a bat in hand, both players aim for futures that do not necessarily involve the sport. Although Mesa hints at a shot of making the Olympic team, she aspires for a career in nursing. Schwartz looks to a future career in elementary education.
Without a doubt, both players hold a long list of accomplishments and awards.
For example, Mesa is rated as one of the best, if not the best infielders in the NJCAA. She was a 2004 NJCAA and NFCA All-American and the MVP of last year's National Championships. She also earned First Team All-ACCAC and First Team All NJCAA Region I. Additionally, Mesa hit a two-run homerun to win the National Championships for her team.
Like Mesa, Schwartz also played a significant role in the 2004 National Championships. As the pitcher, her deposition on the mound proved instrumental during the season and during the Championship game. Her calm, easy-going spirit makes her a great pitcher. Schwartz was First Team NJCAA All-Region I and NFCA First Team All-American in 2004. She also made Second Team All-ACCAC in 2004.
"I see nothing but success for both of them," added Coach Mueller.