War Claims Life of Former Phoenix College Athlete
BY: Charles Kelly, The Arizona Republic
Published: Sept. 29, 2004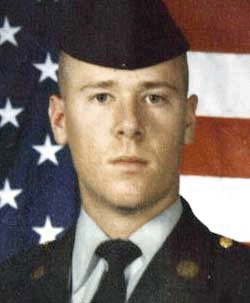 Sgt. Tyler Prewitt, 22, a former Phoenix College baseball player who decided to join the Army after the 9/11 terrorist attacks, has died of wounds suffered last week in Iraq, his father said Wednesday.
Prewitt, a field medic who had also served in Bosnia, was badly injured when a rocket-propelled grenade struck the vehicle he was riding in at an unknown location, said Tim Prewitt of Peoria.
His family was notified Friday that he had been hurt. Surgery on his badly damaged right foot was performed in Iraq, and he was then taken to a hospital in Germany, where he was pronounced brain dead Tuesday, his father said. His organs were donated to other patients in Germany.
Prewitt's brother, Chad, was a star basketball player at Arizona State University, tried out recently with the Los Angeles Clippers and now is playing for the Dakota Wizards, a Continental Basketball Association team based in Bismarck, N.D.
Tyler was also good at sports and very friendly.
"He was very athletic and outgoing," his father said. "He just wanted to help other people."
Tyler was a baseball player at Phoenix College at the time of the terrorist attacks on the Pentagon and the World Trade Center on Sept. 11, 2001. A foul ball had broken his jaw, and he was recovering from that injury. As soon as he was well, he joined the Army, his father said.
Tyler grew up in the Glendale/Phoenix area, attended elementary school at Northwest Community Christian School and graduated from Greenway High School in 2001.
In addition to his father and Chad, Tyler is survived by his brother Richie and his mother, Johnnie. Services are expected to be scheduled in the Phoenix area sometime next week.